Thrapston records uncovers cucumber theft in 1800s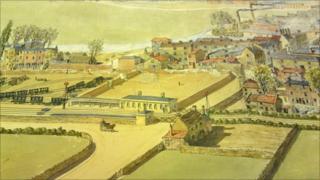 Cucumber thefts, a World War II bombing map and a work of art are just some of the things that have been unearthed by a Northamptonshire archive which is celebrating its 20th anniversary.
Details of a theft of the salad ingredient were uncovered in a police diary, kept in the county's records office, which holds information on 800 years of history.
The archive also reveals details of a WWII map, plotting bombing targets in the county, which was found in a Luftwaffe bomber that crashed in the county.
A metre-wide watercolour can also be seen, after it was commissioned by an abbey owner when he heard a railway line was proposed in "the view" from his home.
In the police diary, an Insp Tarry details investigations of the cucumber theft, in Thrapston in 1883.
'Great care'
"I went to Clapton and met Mr J. E. Knight in the village and from enquires I made, it appears they were stolen from the greenhouse," he noted.
That diary is just one of the artefacts kept at Wootton Hall Park, which has more than 10 miles of corridors.
Daniel Williams from the records office said: "We have a range of records that reflects the everyday people and how they lived their lives in the county."
The records office, which was opened by HRH Princess Anne, is holding celebrations for its 20th anniversary throughout June.
The watercolour painting was produced in about 1850 and details the areas of Far Cotton and Delapre, as they looked at the time.
It was commissioned on behalf of the owner of Delapre Abbey, Edward Bouverie and was intended to reassure him that the view he enjoyed from the abbey would not be blighted by a proposed railway line.
"Great care has been taken by the creator of the painting to show that Mr Bouverie's view really wouldn't be affected by the coming of the railway," said Mr Williams.
'Bomb damage'
The single track railway remains to this day.
The WWII map was found in a crashed German bomber. It is based on an Ordinance Survey map, but is annotated in German. It is claimed that it was used by the Luftwaffe to identify targets for bombing.
Specific targets are highlighted in different colours including boot factories and hospitals.
"We believe that this is to identify the targets for the bombers as they flew over Northampton. We have photographs of bomb damage in the county," said Mr Williams.
The records are used in schools to teach children about the heritage of the county. Heritage education officers and records officers do outreach talks and go to various events.
Mr Williams said: "It is such a fantastic and rich resource we are keen to encourage people to come and look at the documents."