Donations could save Northamptonshire's libraries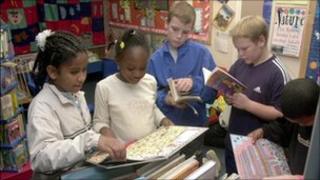 Libraries across Northamptonshire are looking for volunteers and donations to help them stay afloat.
At the beginning of the year, eight libraries faced closure in a multi-million-pound savings bid, but were saved in a last minute reprieve.
Councillors at the Conservative-run council discussed making libraries more self-supporting at a meeting for library users earlier this month.
However, some library users say other funding options should be sought.
Volunteers have been sought and members from different library groups have also been asked to raise £2,000 to help fund different library activities.
Councillor Heather Smith said: "We are facing a future where contributions from residents and local organisations, whether in time or money, are needed.
"The responses we received during our library closure proposals earlier this year showed us how much libraries are valued.
"We want to harness this enthusiasm and support."
However, some people have opposed the plans.
John Hodder, a member of the Friends of Desborough Library, said: "There has got to be another way of funding this situation, the council has admitted to not having enough funds to run libraries, but asking friends of libraries is not the best way to do it."
Other ideas in the first phase of the review include getting corporate sponsorship for particular services and setting up Northamptonshire libraries as a trust.
It has also been suggested that some libraries could re-locate to more modern, efficient buildings.
There will be further consultation on the future of the county's libraries in the autumn.