Corby Enterprise Centre officially opens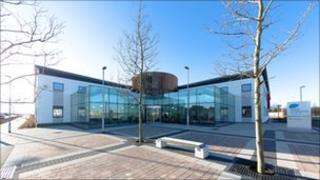 Corby Enterprise Centre (CEC) has officially opened for businesses in Northamptonshire.
The purpose built building aims to attract both new and existing businesses into the area.
The £8.3m centre, which was funded by a number of organisations, took four years to complete.
Stuart Hartley, the centre manager said: "This is a stand out addition to Corby's business community."
The CEC was officially opened by the Mayor of Corby, Gail McDade and the Vice Chancellor of the University of Northampton, Nick Petford.
It has 38 offices and 15 workshops. In six months, the centre has 17 businesses on the site which was its target for the whole of 2011.
Just over half of the businesses at the centre are existing firms in Corby that moved into the CEC and the other businesses are from outside the region.
The leader of Corby Borough Council, Pat Fawcett, said: "This building provides local companies with the modern facilities and support they need to thrive, bringing more quality jobs to the borough."
The centre aims to create 96 jobs over three years.