Young publishers celebrate first year with business day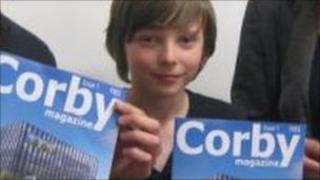 Two Corby teenagers who were named as the UK's youngest publishers are celebrating their magazine's first anniversary with a business day.
Sean Spooner and Louis Porter, who are both 15, launched the Corby Magazine in 2010.
They were named the UK's youngest publishers by an entrepreneur website in the US.
Now the teenagers want to pass on their knowledge to other young people hoping to start their own business.
"Business lessons in school can be pretty rubbish, basically just copying from a book," said Sean.
"This is our chance to give something back by showing other young people what running a business is really like.
"We saw the need for a local magazine because of the gap in the market and now want to share our experiences with others."
'Brilliant fun'
The event at the Corby Enterprise Centre is designed to help and encourage other youngsters with an interest in business.
Local young entrepreneurs taking part will be given the chance to present their own ideas, with the best one winning a business support bundle to help kick-start the project.
"Sean and I have had some brilliant fun developing the quarterly magazine and growing the business," said Louis.
"We've learned a lot, made some great contacts and a bit of money along the way."
The magazine currently has a readership of around 5,000 - but the boys' vision is to have a copy delivered to all 25,000 homes in Corby.