Protesters in Northamptonshire march to the Guildhall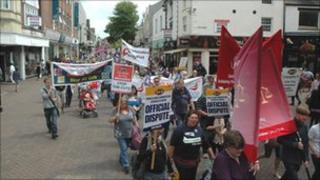 More than 300 public sector workers marched through Northampton town centre to protest against government changes to pensions.
Teachers and civil servants walked from the top of Abington Street to Northampton borough council's Guildhall.
Up to 166 schools in the county were affected by the protests, with 122 completely closed.
There were also pickets at job centres and schools across the county.
Teacher Linda Chandler Hughes, organised a picket line outside Northampton School for Girls.
She said: "Parents know how important it is that their children are taught by teachers who are motivated and will give children the best education."
The five unions involved were Members of University College Union (UCU), the National Union of Teachers (NUT), the Association of Teachers and Lecturers (ATL), the National Association of Head Teachers (NAHT) and the Public and Commercial Services Union (PCS).
Play schemes extended
The county council had to reorganise transport for some students and in some cases escorts were provided for small groups.
An extra play scheme was set up to help parents who could not take the day off. Fun Zone's play scheme at Lings Forum in Northampton was open for nine to 13-year-old children.
People came from all over the county to take part in the rally.
A woman from Corby Job Centre, who didn't want to named, said: "Traditionally, the public sector has always been lower paid than the private sector.
"They've compensated for this by saying that we've got other benefits like a great pension. It's not so great anymore."