Northampton artist to paint 36 people in 36 hours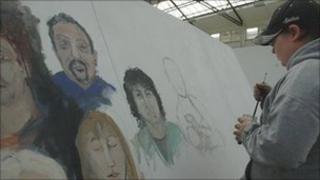 An artist has set herself the challenge of painting 36 people in 36 hours, to show the different types of people living in Northamptonshire.
Jude Lynn, from Northampton, is inviting people to both watch her paint and be the subjects of her artwork at the town's Fishmarket Gallery.
Work on the painting began on 7 July and will continue through to 9 July.
"There are so many different people living in Northampton, this display will celebrate that," she said.
Ms Lynn will be sitting on a platform in the centre of the gallery producing the artwork, which will later go on display.
"It really is performance art as not only will my artwork be on display, but I will be on display whilst I'm doing it," she said.