Rare Gibson Les Paul Goldtop guitar up for auction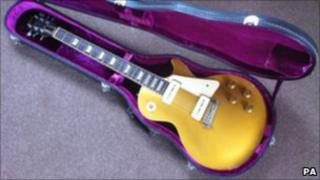 A rare, early electric guitar is to be auctioned in Northamptonshire.
The Gibson Les Paul Goldtop is believed to have been used by rockabilly musician Carl Perkins when he recorded his hit Blue Suede Shoes.
Jonathan Humbert, from JP Humbert Auctioneers, believes it could be worth up to £50,000.
He initially thought it was only worth a few hundred pounds, but after having it restrung it was dated back to 1954 by checking its serial number.
Mr Hubert said: "1954 was the first year that they became really popular but there's not many of that year left.
"There's plenty from the 70s and 60s, but 1954 is an early date."
In 2007 an early Goldtop was sold for £42,000.
JP Humbert has put a reserve of £5,000 to £8,000 on the guitar, but is hoping the auction on 20 July will draw bidders from the USA.