Formula 1: Large crowds at Silverstone for Grand Prix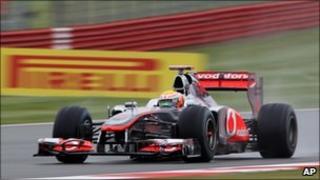 Thousands of Formula 1 fans have flocked to the British Grand Prix at Silverstone as organisers predict a record crowd for race day on Sunday.
The three-day event in Northamptonshire saw crowds of about 100,000 on Friday while a sell-out crowd of more than 120,000 is expected on Sunday.
Fans have flocked to see drivers such as Jenson Button and Lewis Hamilton.
Silverstone managing director Richard Phillips said the support from fans had been "amazing".
The race is the first since work was carried out to create a new pit, paddock and conference complex.
Organisers believe this year's success is because of the new improved circuit.
Mr Phillips said: "We are constantly trying to entertain our visitors at Silverstone and believe the new centre will help Silverstone's position as a premier racing destination.
"This year's British Grand Prix is one of the best and is certainly one of the biggest.
"It is positive to see the numbers grow at the event and we hope to do more work in the future to continue to improve it in 2013."