Crime figures halved at Silverstone meeting, say police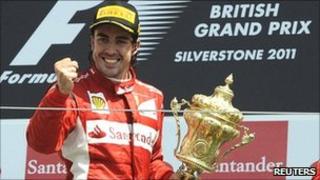 Crime figures were halved during the three days of the British Grand Prix at Silverstone, according to early estimates from Northamptonshire Police.
Fewer than 20 crimes, half last year's figure, had been reported by the time Fernando Alonso took the chequered flag in the Formula One showpiece on Sunday.
A total of 300,000 spectators attended over the weekend, including 122,000 on race day itself.
A force spokesman described the reduction as "exceptionally pleasing".
Ch Insp Sean Bell, the event commander, said he was delighted with the outcome and paid tribute to the organisation and teamwork of police and partners across the field.
"We will know by the middle of the week the total number of crimes recorded at the event," he said.
"A number of arrests were made, in the main related to alcohol-influenced issues, but we pride ourselves on the fact that Silverstone has now been a low-crime event for several years.
"There were a handful of thefts on the campsites but overall our crime prevention messages and high-visibility patrols had the desired effect.
"Traffic in and out of the circuit by and large ran smoothly, not withstanding pinch points at certain times down to the sheer volume of traffic vying for limited road space."
He added: "The event could not run in the way that it did without the dedicated contribution and team working from all the partner agencies who work with the police at the circuit."