Bid for £4m to help restore abbey in Northampton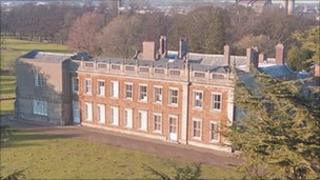 A bid for nearly £4m to start work on restoring an 850-year-old abbey in Northamptonshire is being made to the Heritage Lottery Fund.
A total of £15m is needed to fully restore Delapre Abbey, in Northampton, which is Grade II* listed.
Northampton Borough Council has put in a bid for £284,000 to the lottery fund for the first stage of funding to prepare an application.
It will then apply for a £3.5m restoration grant in the second stage.
Leader of Northampton Borough Council David Palethorpe said: "We want Delapre Abbey to be an important landmark on the local and national heritage map and a major attraction that brings people to Northampton.
"Support from the heritage lottery fund would allow us to take an exciting step forward in preserving this really important and beautiful building and its wonderful grounds."
The council has recognised the abbey as its principle heritage priority and pledged to support it with a restoration fund of about £800,000 to encourage other organisations to invest.