Northamptonshire noisy cockerel given crowing ban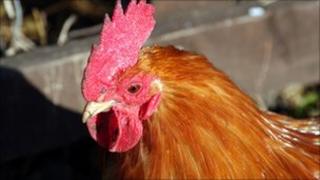 The owner of a cockerel has been told to stop it crowing between certain hours, or face legal action from a council following complaints.
Cockadoodle's early wake-up calls have been annoying neighbours in Potterspury, Northamptonshire.
The council enforced a noise abatement order banning Cockadoodle from crowing between 0645 and 0730.
Owner Carl Welch described the action as "ridiculous" and is sending the cockerel to a new home in Lincolnshire.
Cockadoodle and 12 hens had been bought at the end of 2010 for Mr Welch's garden on the High Street.
'Constant crowing'
The 49-year-old said: "Because I live in a fairly rural area, it never occurred to me anyone would complain about the cockerel.
"But as the mornings grew lighter, one of my neighbours complained he [Cockadoodle] was disturbing them in the early mornings with his crowing.
"I brought him inside and covered him up, but I have to leave for work at 7am so I have no choice but to put him outside at about 6.45am.
"It seems a bit ridiculous to me. I've got to re-home him because I can't go to work any later.
"The dust cart comes around before I leave at 7am once a week and that seems to be OK, but it's not OK for a cockerel to crow."
A spokesman for South Northamptonshire Council said two neighbours had complained in June and recordings made over a week showed Cockadoodle crowed constantly for 45 minutes each day.
He added: "A statutory nuisance has been established and as such, the council is duty bound to serve an abatement notice.
"Should the notice be breached, ultimately court proceedings may follow.
"We have a duty to investigate all reports of noise pollution thoroughly and take all complaints to the council seriously."