Buckton Fields development rejected by Daventry council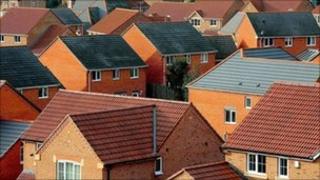 Plans to build more than 1,000 new homes in Northampton have been turned down.
The Buckton Fields development would have created more than 1,000 new homes on the edge of Kingsthorpe.
The proposals were rejected by Daventry District Council on Wednesday evening because of concerns over the impact on the town's infrastructure.
The council decided that the development should not go ahead until Northampton get its North-West bypass.
Richard Atterbury of planning committee said: "The roads simply wouldn't be able to cope with the new demand."
Resident Angela Bartlett, who had opposed the plans, welcomed the result.
"It's a nightmare getting through Kingsthorpe as it currently stands, so I am happy that it has been turned down. It really is a victory for us," she said.
Mr Atterbury said the bypass would help relieve pressure on the town.
"We are still waiting for work to be carried out throughout the town which would help with its growth," he said.
"The developers did offer us money to help with the town's infrastructure, but it simply wasn't enough so we are leaving it for now."