Artists glide through Northants for Cultural Olympiad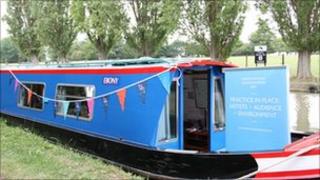 Three artists have been travelling along Northamptonshire's waterways as part of the Cultural Olympiad which aims to involve people in a cultural celebration of London 2012.
Jo Roberts, David Littler and Simon Woolham are in a narrowboat on the Grand Union Canal.
The project is called Interchange and was organised by the not-for-profit arts organisation, Fermynwoods Contemporary Art.
Over the weekend they will also be offering workshops in such activities as embroidery, badge making and old printmaking.
Printmaker Jo Roberts said they had recently been showing a group of solicitors to master the art.
David Littler has been holding a workshop with the aim of turning pictures into sound using an adapted music box
"We did a project with Stoke Bruerne Primary and they created a 20m drawing which we converted into a 20-minute piece," he said.
The workshop on the narrowboat is one of many events being held across the county.
One of them, the Blaze Dance Relay, is aimed at the entire county.
It involves free community performances in five outdoor areas of Northamptonshire over the weekend.
On Saturday Blaze will be outside the Corby Cube at 1200; the Daventry Leisure Centre at 1300; The Castle, Wellingborough at 1400; Kettering Market Square at 1500 and Towcester Centre for Leisure at 1600 BST.
On Sunday they will be at Althorp House at 1130 and at Northampton Market Square at 1400 BST.