Police raids over murdered family in Northamptonshire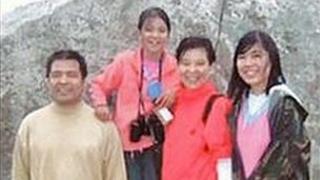 Police searching for the killer of a family-of-four murdered in their home have raided a number of properties in London this week, a spokesman revealed.
Jifeng "Jeff" Ding, his wife Helen and their daughters Alice, 12, and 18-year-old Xing were found stabbed to death in Wootton, Northampton, on 1 May.
Police are still hunting prime suspect Anxiang Du, 52, from Coventry.
Police said the raids this week only resulted in a number of people being dealt with over immigration issues.
Det Supt Glyn Timmins, leading the investigation, said: "We have undertaken extensive work in investigating these brutal murders and in trying to locate our suspect.
"However, unfortunately there have been no positive sightings or information to suggest where Mr Du is or if anyone is assisting him.
"It is difficult to say with any certainty if he remains in the UK or has left the country, and as a result we have extended the search for him or information, into the other countries.
"I believe AnXiang Du is more likely to seek support from within his own community and I therefore believe that members of the Chinese community may be able to provide valuable information to the enquiry.
"I would urge anyone who has any information to contact us."
A police spokesman said: "Three police warrants were executed in the London area, resulting in a number of people being dealt with by immigration officers."
Crimestoppers has offered a reward of £10,000 for information which leads to the arrest and conviction of the killer.