London 2012: Olympic Flame Ambassador hopes to inspire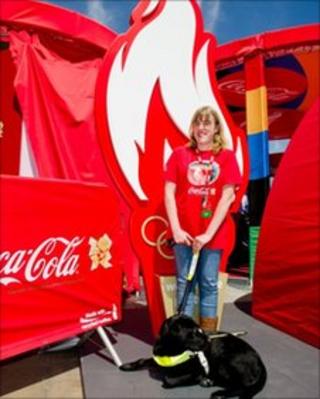 A woman who spends most of her spare time volunteering wants to use her experiences to inspire others to be a part of the 2012 Olympic Games.
Rachel Nafzghar, 21, from Daventry, Northamptonshire, is one of 10 Future Flame Ambassadors who tour the UK to encourage people to be torch bearers.
She is registered blind, but it has not been a hindrance to her work.
"It's one of my big goals to show people that disability doesn't mean different," she said.
Ms Nafzghar was nominated by the National Union of Students to be a Future Flame Ambassador because of the work she does to help others.
"I started off as a general volunteer where I went to help an animal sanctuary but we also helped the elderly and held workshops for children," she added.
She won a regional award from v-inspired, a national charity that helps people volunteer, for her work in Plymouth.
As the vice president of the voluntary society at the University of Plymouth, she now runs various projects for the group.
The tours have been organised by drinks firm Coca-Cola and showcase the inspiring work of the 10 ambassadors.
They will encourage the public to nominate others to be torch bearers but the ambassadors may also get the chance to carry the Olympic flame themselves.
"If I get the chance to be a torch bearer it will be a dream come true for me," said Ms Nafzghar.
The next event that Ms Nafzghar will attend is at Coventry in August. To date she is amazed at her accomplishments.
"I moved away to university to push myself but I never dreamed that it would turn out like this," she said.