Dead horse found in River Nene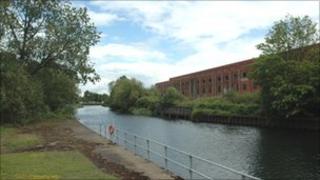 A dead horse has been found in the River Nene at Ditchford, Northamptonshire.
It was found by a man walking his dog and may have been in the river for up to nine weeks.
Wellingborough Borough Council said it hoped to remove the animal within a week although it did not know whose responsibility it was.
Councillor Peter Morrall said: "It can't be left there so we will get a specialist company to remove it."
The Environmental Agency said: "We have been out to assess the situation at Ditchford and as the risk of pollution or flooding is minimal we are unable to take any further action."
The council is concerned that, as the school holidays have started, children will see the carcass and be distressed by it.
"What a horrific thing to discover lying in the river, how will you explain that to young children?" asked Councillor Morrall.
An initial assessment by the council has found that the horse is in a difficult part of the river to get to.
It is working on towing the carcass by boat further down the water to a point where a truck can pick it up.