Four arrested in Wellingborough murder inquiry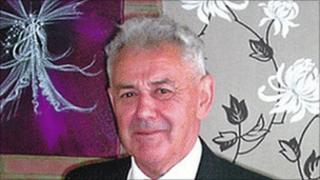 Two men and two women have been arrested by police hunting the killer of a 76-year-old pensioner in Northamptonshire.
Hungarian-born Karoly Varga, known as Charlie, was found at his home in Cannon Street, Wellingborough, just after midday on Saturday.
Police raided a house in Senwick Road on Thursday and made the four arrests on suspicion of conspiracy to murder.
Police are questioning two men, aged 30 and 31, and two women, aged 26 and 31.
A post-mortem examination showed Mr Varga had died from head injuries caused by a bladed instrument.
Relatives raised alarm
So far no murder weapon has been recovered.
Mr Varga's body was found after relatives had raised the alarm.
Police had appealed for information about an old, distinctive S-registered navy blue Peugeot 306 that had been associated with his address and was for sale.
It had disappeared but has been recovered and is being forensically examined.
The person who bought the car has not been arrested.
'Well-known figure'
Forensic officers were continuing to work inside Mr Varga's home on Thursday.
Det Ch Insp Martin Kinchin appealed for anyone who had seen Mr Varga before he was attacked to contact the police.
He said: "Mr Varga was a very well-known figure in both the local and Hungarian communities, by both the young and old alike.
"We know he helped Hungarian migrants to the town with documents and procedures.
"He helped Hungarian migrants establish themselves. If he heard people speaking Hungarian in the town he would go up to them and chat. He had a wide circle of friends."