Theft 'likely motive' in murder of Wellingborough man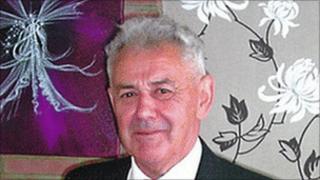 A wealthy pensioner who was found murdered is "likely" to have been murdered for money, police said.
Karoly Varga, 76, was found dead with head injuries at his home in Cannon Street, Wellingborough, Northamptonshire, on 30 July.
Police said Mr Varga owned and rented houses and had investments but led a simple and frugal life.
They said that Mr Varga, also known as Charlie, lent money, which he kept in his house.
Officers found evidence that the terraced home had been searched and that it had been cleared of cash.
Detective Chief Inspector Martin Kinchin, who is leading the investigation, said: "This is unlikely to be a burglary gone wrong or a random attack, but instead I believe that Mr Varga was targeted by somebody who he knew or he knew of.
"I now believe that Mr Varga received a visitor to the front door at lunchtime on Wednesday 27 July.
"I am very keen to speak with this person, who has yet to come forward.
"As well as speaking to anybody who has visited Mr Varga in the last few months, I am also very keen to talk to anybody who he assisted by lending them money, whether the money has been repaid or not.
"Any information we receive can help us build a picture of Mr Varga's life, his last movements and potentially those of the killer."
When Mr Varga was found, his house was locked and the back door keys were missing, indicating that the killer may have left the property via the back door.
Detectives are still searching for the missing murder weapon.
Two men and two women who were arrested have been released on bail.