Northampton's Castle station plans approved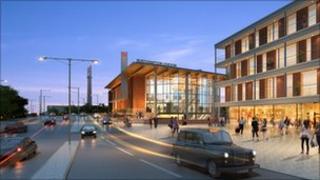 Plans to build a new railway station in Northampton have been approved by the West Northamptonshire Development Corporations (WNDC)
The new building, which is a two-storey glass and steel construction, will replace the current structure called Castle station on Black Lion Hill.
The WNDC is working with Network Rail to get the project off the ground.
The station will cost around £25m and an application has been made to the Regional Growth Fund.
WNDC's Chief Executive, Peter Mawson, said: "The station proposal has prior approval in planning terms so we can now start to seek funding."
The final decision rests with the government but, if approved, work could start in 2013.
The project is part of the new enterprise zone planned on the River Nene which is expected to create 13,000 jobs.
There will also be new commercial offices and a new car park built in the area.
"We will hear the outcome of the Regional Growth Funding during the autumn," said Mr Mawson.