Daventry Country Park's visitor centre reopens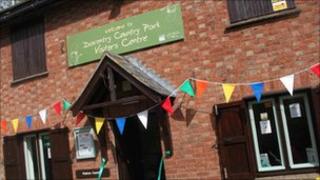 A new visitor centre is opening at Daventry Country Park following a major refurbishment.
The work, which was carried out by volunteers from local companies, began in July.
The centre now has new equipment to show live video feeds and a new activities area.
Councillor Alan Hills, from Daventry District Council, said: "We get thousands of visitors at the park each year. It is there for everyone."
The new centre has been inspired by comments from people who use the park. They were asked what changes they would like to see.
Materials and manpower for the refurbishment were provided for free as part of the Cummins in the Community Programme.