Northampton Trampoline Centre wants to host Olympic team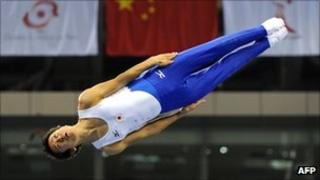 The head of a Northamptonshire sports centre is hoping that a Japanese team will choose Northampton as its training camp for the 2012 Olympics.
Japan's Olympic Trampoline team went to the Northampton's Trampoline Centre for a rehearsal for the 2012 Games.
The trip was organised by Tracy Whittaker-Smith who runs the centre.
She said: "It will heighten the centre's profile if the team decides to come here."
The Japanese trampoline team has a long-standing relationship with Tracey Whittaker-Smith and the British team.
A spokesman from Japanese team said: "We have known Tracey for many years. We came here last year for research and knew that the facilities were at a high level which is why we came here again this year."
The team also brought over a group of sports scientists to investigate the effects of jet lag on training and competition.