Care Quality Commission hears Northampton General praise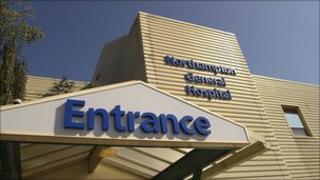 Staff at Northampton General Hospital (NGH) have been praised for their treatment of patients in a report released by the Care Quality Commission.
Patients gave positive feedback when inspectors made an unannounced visit to the hospital in July.
The inspectors visited 10 wards over three days, speaking to patients, relatives and staff.
Doctors and nursing staff were described as kind and caring.
Advice and training
Fiona Barnes, the Director of Nursing said: "This is a very positive report in relation to dignity and respect of our patients ensuring that we provide the quality of care and safety that is expected."
The report also highlights a minor concern relating to the way NGH documents the needs of patients who are less able to communicate with staff.
Northampton General said it has already taken action to address the problem.
"We have employed a full-time learning disability nurse who can support staff and patients with advice and training." said Mrs Barnes.