Corby council's Pat Fawcett may resign after cancer returns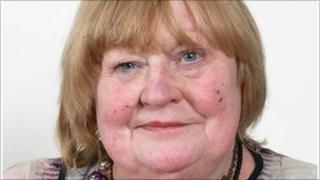 The leader of Corby Borough Council, Pat Fawcett, has started treatment for lung cancer.
The disease was diagnosed 16 months after a previous operation for lung cancer.
Mrs Fawcett, 67, had previously said she would step down as council leader next year. Now she is considering whether to resign sooner.
"It'll be one of my hardest decisions," said Mrs Fawcett, adding that she would know following chemotherapy.
'I've got to let go'
Mrs Fawcett has been leader of the Labour-controlled local authority since 2005.
During her time in office, Corby has seen the return of the town's railway station, the opening of the Corby East Midlands International Pool and the Corby Cube which includes a theatre, library and council offices.
Her administration has also been criticised by opposition councillors for the amount of money the council has borrowed to pay for new buildings, such as the Corby Cube.
Mrs Fawcett said that following her cancer scare last year she has used a wheelchair and has not been able to do as much as she wanted.
"As leader of the council, I believe you should be able to give at least 100%. I've been hovering around 92-93% over the last year," she said.
"I am definitely not standing as leader next year. Do I have to bring it forward? I'll know after the first chemo."
Mrs Fawcett said she would miss having a central role in the regeneration of Corby.
"None of us are indispensable but I like to see Corby getting better," she said.
"It's being able to let go and I've got to let go."
Mrs Fawcett said she hopes that speaking about her cancer will help other people.
"I like to think that by us talking about this it may become less of a taboo word and maybe they'll fight harder to find a cure for cancer.
"You've got to try and get through it being miserable doesn't change the fact you've got cancer. I like to use the word and own it."