Northampton shoppers urged not to give money to beggars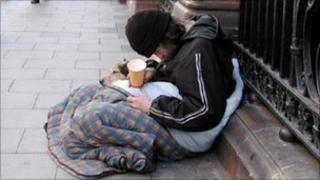 Shoppers in Northampton are being asked not to give money to beggars because it may fuel drink and drug problems.
Northampton Community Safety Partnership (NCSP) said people's kindness may stop beggars getting help.
The group has started a campaign called 'Killing with Kindness'.
Members of the team are at Market Square in Northampton on 2 and 3 September to show how people can help by supporting organisations that help those in need.
Julie Seddon from the NCSP said: "This campaign won't stop people from giving, but we hope it will make them think twice and direct their kindness by donating to the organisations that can help turn these people's lives around."
The Northampton Community Safety Partnership is made up of different organisations including Northampton Borough Council, Northampton Police and Northampton County Council.