Northamptonshire based Avon celebrates 125 years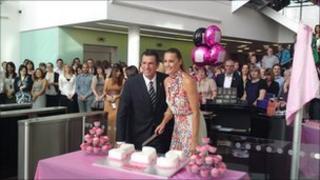 The world-famous Avon cosmetics company has celebrated its 125th anniversary.
The company, based on Bedford Road in Northampton, had a party with special guests including the model Yasmin Le Bon.
Avon sells beauty and cosmetic products directly to people door-to-door.
The company, which moved to Northamptonshire in 1959, employs 750 staff in the county and has more than six million representatives worldwide.
Louise Carter from Wellingborough, who runs a successful Avon business, said: "It feels more like a hobby. I deal with people every day and enjoy talking to people, that's all my job is about."
The company was started by David McConnell, who decided to venture into cosmetics while selling books door-to-door in the USA.
He noticed that female customers were generally buying his literature because of the free gifts it came with.