Children help secure funding for Oundle Pocket Park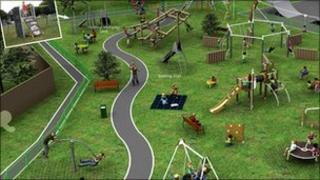 Children in a Northamptonshire town have helped to secure funding for the refurbishment of a pocket park.
Oundle Pocket Park, a small wildlife area on New Road, has been given £100,000 for new play equipment.
Oundle CE Primary School pupils gave designs and ideas for the park to Waste Recycling Environment (WREN).
George Higgins from Oundle Town Council said: "There is little doubt that the children were vital in getting this grant."
Half of the money for the park on has come from WREN, which funds community projects. The rest of the funding is from the town council.
The headteacher of Oundle CE Primary, Janet McMurdo, was pleased the school was able to get involved in a community project.
"We had children from reception year drawing pictures and other children even wrote a poem about the park," she said.
Mr Higgins started a campaign to rejuvenate Oundle Pocket Park in 2010.
He approached residents, businesses and sports clubs to gather support for the project and a petition.
"I think when you live in a rural area it is almost more important to provide good facilities for children who don't have access to those things," he said.
The park is expected to be ready by the end of the year.