Northampton soldier killed in 'toy row', court hears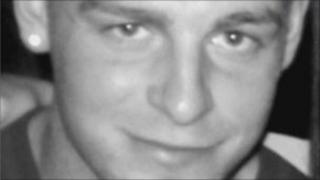 A paratrooper was killed following a confrontation with another man over his daughter's broken toy, a court heard.
Rory McWilliams, 20, from Northampton, suffered fatal head injuries in the incident in the town on 6 February.
Northampton Crown Court heard Mr McWilliams had confronted his ex-girlfriend's new partner over a toy that had been broken on Christmas Day.
The defendant Levi Chandler intervened and hit Mr McWilliams, jurors heard. Mr Chandler, 26, denies manslaughter.
The court heard the soldier, who was about to embark on a tour of duty in Afghanistan, was with a friend in Northampton town centre when they passed another group including Mr Chandler and Glen Thompson, the new partner of Mr McWilliams' ex-girlfriend.
Prosecutor Alisdair Smith said Mr Thompson and Mr McWilliams were in an argument and Mr Chandler intervened.
He said: "Levi Chandler struck Mr McWilliams one blow to the head. It knocked him to the ground. His injuries were such there was no prospect of saving his life."
He died in hospital one week later.
Mr Chandler, of Pomfret Court in River View, Northampton, told police Mr Thompson had been backing away when Mr McWilliams had approached him with a clenched fist. He said he intervened and hit him once to stop it.
The trial continues.