Paratrooper Rory McWilliams 'started fatal fight'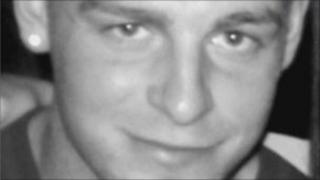 A paratrooper started the fight in Northampton which resulted in him being fatally injured, a court has been told.
Pte Rory McWilliams, 20, of Northampton, died six days after being punched and hitting his head on the ground after a night out on 6 February.
Levy Chandler, 26, of Northampton, denies manslaughter.
Witness Catherine Loughran told Northampton Crown Court Pte McWilliams had approached Mr Chandler's friend Glenn Thompson in an aggressive manner.
'Storming over'
It was Pte McWilliams' last weekend at home before he was due to deploy to Afghanistan with Second Battalion, the Parachute Regiment.
On the second day of Mr Chandler's trial, Miss Loughran said she saw Pte McWilliams "storming over", swinging his arms in an aggressive manner.
Miss Loughran, who was with Mr Thompson and Mr Chandler that night, told the court: "At that point I saw who I now know is Rory coming towards Glenn very angrily."
She added that things became "very heated" after Pte McWilliams grabbed Mr Thompson's shoulders.
"They were all very close together, it was confrontational, and then I saw Levy punch Rory," she said.
Miss Loughran said she did not think the punch was bad enough to have caused fatal injuries to Pte McWilliams.
Last week the court heard there was a history between the two men as Mr Thompson was then the boyfriend of Pte McWilliams' ex-girlfriend, Natasha Cook, with whom he had a young daughter.
The trial continues.