Charity set up in Northampton to prevent violent crime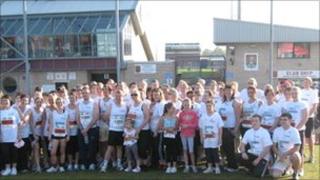 A charity set up by two school friends of a Northampton man murdered in America has had its inaugural event this week.
James Kouzaris, of Kingsthorpe, and his friend James Cooper, from Warwickshire, were shot in Florida in April 2010.
Paul Davies and Joe Hallett went to Northampton School for Boys with James Kouzaris.
They have set up the Always a Chance charity to help young people at risk of being involved in violent crime.
"The main aim is to change young people's lives really," said Mr Hallett.
More than 100 people took part in Northampton's 10k, Run 11 raising about £15,000.
Always a Chance will have three strands to its work, according to the founders.
They are victim support, where the charity wants to fund a post-traumatic stress councillor, working with agencies that provide services for 16 to 25-year-olds and provide education to schools.
"We are putting together a package for January 2012 to go into schools in Northamptonshire and Warwickshire to deliver presentations on gang and knife crime," said Mr Hallett.
Other events to raise money for the charity will include a rugby match and an auction.