Derelict bandstand in Wellingborough could be restored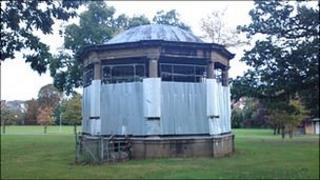 A bandstand in Northamptonshire which has been repeatedly vandalised could soon be restored to its former glory.
The Castle Fields bandstand in Wellingborough was built before World War I and has been boarded up since 2008.
The building is not listed, but local schools and community groups have been campaigning for it to be restored and reopened.
Councillors will discuss plans in a meeting on 19 October.
Wellingborough Council carried out a survey on the building in 2010 and estimated that costs for refurbishment would be around £75,000.
Edeltraud Freund, from the Victoria Centre, said: "It's not just the building but what could happen in it that makes it important."
There have already been a number of suggestions for the use of the building, including hiring it out as a community facility or using it for amateur dramatic and music performances.
Derek Shears, from Wellingborough Civic Society, said: "It can be used for local bands starting up, to practice if the council can run electricity to it."