Pudsey money helps Northamptonshire's young pony riders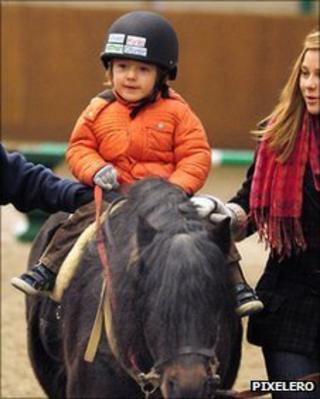 A group which provides pony rides for disabled children in Northamptonshire has been awarded £30,000 by Children in Need.
The Wilby branch of Riding for the Disabled Association (RDA) will use the money to cover the costs of an indoor facility at Moulton College in Northampton.
The group provides pony rides to more than 40 children with various disabilities and special needs from across the county.
RDA Wilby has been going for 21 years and relies on the help of volunteers who assist the children during their riding lessons.
'Very therapeutic'
The volunteers help the children mount and dismount the ponies and continually encourage them while they are riding.
Angela Doughty, who runs RDA Wilby, has looked after ponies all of her life. She said: "The lessons are very therapeutic physically.
"The movement of the pony just stimulates the muscles, increases the blood flow and gives them a moment of movement which very often they wouldn't have."
Angela believes riding truly benefits children who are disabled and who would never have had the opportunity to experience it.
The group was established 1991 and moved to Moulton College in 2006 where the ponies are kept during term time. Lessons take place three days each week.
RDA Wilby is one of four organisations in Northamptonshire that have benefited from Children In Need money this year.
The Kettering Children's Holiday project has been given about £4,980 to provide a holiday for young people from low or no income backgrounds.
Home-Start Corby has been awarded more than £8,000 to fund outings during the school holidays for children and their families.
The County of Northampton Council of Addiction (CAN) has received £78,864 to employ a children's worker to provide counselling and therapeutic support to children with parents who are battling a drug or alcohol addiction.
Fund-raising events are being held across Northamptonshire for this year's BBC Children In Need appeal, which takes place on Friday, 18 November.