Fire at a waste recycling plant in Burton Latimer is out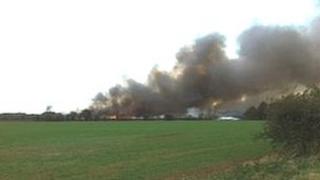 A fire that has been burning at a waste recycling plant in Northamptonshire has been extinguished a month after it began.
Firefighters have been working to control the fire since they were called to Think Environmental Ltd's Blackbridge Farm site on October 9.
The fire started two weeks after another fire at the site in Burton Latimer which lasted seven days.
The cause of both fires are under investigation.
It had been estimated that the fire would take until the end of the week to extinguish.
Station manager Warren Ellison, who was in charge of the fire service operation at the site, said: "We thought it would take until the end of the week but we were able to put it out Wednesday evening.
"Because of the nature of fires like this it is very difficult to judge how long it will take.
"We have worked hard at the site - initially we had several pumps and firefighters there and we have had one pump there round the clock since it started."
Mr Ellison said their progress was partly down to the assistance they had from Think Environmental, who paid for a special foam concentrate which they used at the site.
A handover from the fire service to Think Environmental is now due to take place however the company will not be able to import rubbish again until they comply with the conditions of a suspension notice served to them by the Environment Agency on October 21.
The Environment Agency's conditions demand that buildings to keep, treat and drain waste are constructed on the site.
A spokesperson for the Environment Agency said: "This notice means that they cannot import any further waste to the site until the Environment Agency is confident that they would be compliant with their permit."
At the height of the fire residents living more than 20 miles away could see smoke and ash, and those near the site were advised to keep their windows and doors closed for as long as the fire created smoke.