Anglian Water applies for drought permit after dry spring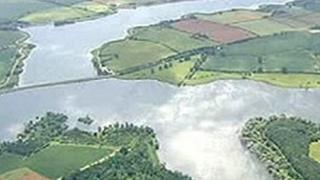 Anglian Water is applying for a drought permit after the driest spring in Northamptonshire for 80 years.
The Environment Agency will decide if the firm can extract extra water from the River Nene to replenish Pitsford Reservoir, now at 56% capacity.
Ciaran Nelson, from Anglian Water, said: "We saw an average 20% less winter rainfall in our supply region.
"This was then followed by the driest spring in over 80 years and rainfall remained exceptionally low."
At this time of year reservoirs are usually topped up in preparation for summer.
But due to low river flow in the Nene, the storage levels at Pitsford dropped below the Anglian Water target.
"Levels of water in the Nene improved slightly in the summer, but not enough to refill the reservoirs to an acceptable level," Mr Nelson said.
Water conservation campaign
"During the autumn, river flows in the Nene deteriorated further. In September rainfall was on average 49% lower than in previous years.
"If the dry conditions were to continue throughout this winter, storage levels at Pitsford would not recover and would remain very low.
"That's why we're taking prudent action now, applying for a Drought Permit, to try to keep water supplies secure and customers' taps flowing."
A campaign is under way to encourage people to cut waste and to ask customers top be careful with what they use.
"We are continuing to target leaks so that water isn't wasted.
"We're investing an additional £6.8m, and have created over 60 new jobs specifically to tackle leaks and bursts," Mr Nelson said.