Castle Fields bandstand to get £75,000 makeover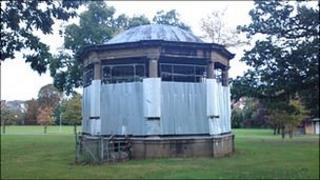 A bandstand in a Northamptonshire park is to be given a £75,000 makeover.
The landmark in Wellingborough's Castle Fields has been boarded up since 1998 but campaigners have fought to have the structure repaired.
Wellingborough Council has agreed to pay to refurbish the 98-year-old bandstand and is hoping to attract grants.
A sports pavilion could also be built in the park.
Paul Bell, leader of the council, said: "To restore the bandstand and refurbish the park is something that will have a real benefit to the community and we're pleased that we're now in a position to plan the project.
"When residents feel they have ownership of the park and the bandstand, and frequently use the bandstand for community events, the chances of vandalism and antisocial behaviour occurring again should be reduced."