Northamptonshire police dog followed suspects for an hour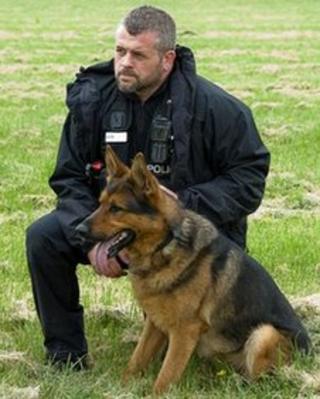 A police dog tracked down suspected metal thieves in Northamptonshire after following their scent for more than an hour and through a river.
Guinness and his handler PC Carl Ellis began the search after suspicious activity at a scrap metal yard in Wellingborough early on Tuesday.
He picked up a scent and followed it through the River Nene before finding a group of men on a roof.
Four men from the Birmingham area were arrested on suspicion of metal theft.
On Sunday, Guinness tracked a man to his home after a driver fled when his car crashed into New Duston post office in Northampton.
A 38-year-old man has now been charged with drink driving and is due in court on 12 December.
Police were alerted to John Redden Ltd in Finedon Road, Wellingborough, on Tuesday morning after a security guard found scrap metal gathered together as if ready for collection.
Five-year-old Guinness found the four men in Chettles Yard in Ditchford Lane, just outside the town.
Sgt John Wooding said: "This is another excellent piece of work from Guinness and his handler which has led to four arrests.
"Guinness is an extremely hard-working dog and his actions this week are superb examples of how police dogs can help officers in the line of duty."