Wellingborough museum attempts to make up for funding cuts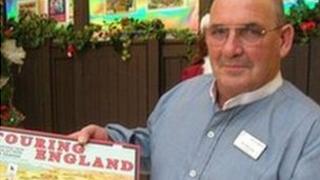 Staff at a Northamptonshire museum have been forced to charge for some events to make up for the recent cut to their funding.
Wellingborough Museum had its annual grant from the borough council reduced from £26,000 per year to £19,950.
The difference must be raised if the museum is to continue to offer free entry to its main exhibition.
It is hoped that the paid-for events, the museum's shop and the cafe will help make up the shortfall.
Museum archaeologist Ian Nunney said: "We have always run on a tight budget but following the funding cuts in October we are trying to make up some of the funds.
"We have a brought in a lot of stock to the shop, a lot of old fashioned games that we hope wil be popular for Christmas."
Mr Nunney added: "We have also had to start charging for open days, we are trying to keep the costs down, but the main thing for us was making sure the admission is free."
Wellingborough Council had initially suggested cutting the museum's funding to £10,000 a year, but after a campaign by residents and a meeting with museum representatives, the cut was reduced to 25%.