Northampton bus station images unveiled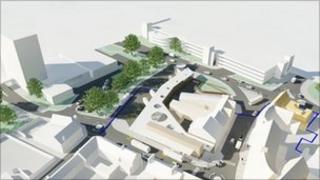 Designs for the new £7m bus station in Northampton have been unveiled.
The station will be built on the old Fishmarket site and passengers will be able to wait indoors for the buses.
Councillor Tim Hadland, from Northampton Borough Council, said: "It is an exciting stage in the regeneration of the town."
The bus station will replace the Greyfriars building which will be knocked down for the expansion of the Grosvenor Centre.
A planning application will be submitted by spring 2012 and the bus station is expected to be completed by summer 2013.