Woman makes David Cameron's Downing St Christmas Wreath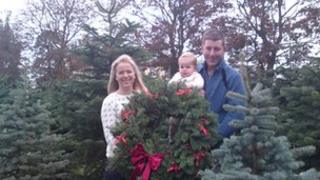 A wreath which will adorn the front door of 10 Downing Street throughout the festive period has been created by a Northamptonshire woman.
The traditional decoration was made by Ella Miles, who runs a Christmas tree farm with her husband William in Welford.
Mrs Miles's design is 3ft wide and decorated with red bows and berries.
It won a competition held by the British Christmas Tree Growers Association earlier this year.
Mrs Miles said she was delighted to win.
"I have only been making them for four years, I never imagined I would actually win, we are thrilled," she said.
The Prime Minister's office has requested two of the wreaths which the Miles family have taken to London.
Mrs Miles added: "I feel slightly under pressure. I don't think I'll be able to watch the news for the next few weeks."