Northamptonshire Rose project praised by ex-criminals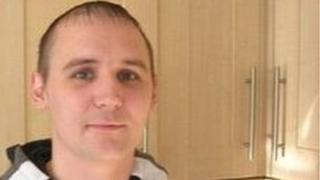 A group of former prolific burglars and thieves have credited their turn around to a rehabilitation scheme which could face cuts.
The Rose programme, which rehabilitates repeat offenders in Northamptonshire, may lose staff as the county's police force tries to save cash.
A police spokesman said a "proficient" service would still be provided.
Former burglar Roger Clarke said the scheme, which is led by the police and probation service, changes lives.
This year Mr Clarke, 32, is looking forward to a normal Christmas at home with his family after several months working with the Rose to fight the drug problem which led him to offend.
Team of 12
He said: "Because I have taken drugs since I was a child, it's easy for me to think of taking a few valium, thinking it will be fine - but knowing that they are going to come here and offer me a drug test it gives me the support I need to stay away.
"Every day is a struggle but I am starting to take on my responsibilities. I am looking forward to Christmas this year.
"After Christmas I am going to work towards finding a job. What they do - it does work. I can't praise them enough."
The Rose project is a scheme which aims to reduce offending by working with prolific criminals, many of whom are problematic drug and alcohol users.
The programme's team of 12 is in touch with hundreds of offenders in the county at any one time, a list that is always changing.
Aside from assisting the offenders, the team also punishes offenders if they stray from the rehabilitation programme.
Nicky Beatton, 29, from Corby, has served several sentences for burglary and assault but is now working with the scheme to focus his mind away from crime and onto work.
He said their technique works.
"I've got a bit of work now. I am trying, I am working this week and I'd like to get myself into full-time work," he said.
"When they make cuts to projects like this it makes it harder."
'Considerable challenges'
A spokesperson for Northamptonshire Police said funding for the Rose programme was being constantly reviewed but added that the scheme would continue to provide a proficient service.
Staff who make up the team said they were aware that money-saving plans were being discussed.
PC Tony Cotton, one of the officers leading the programme, admitted cuts would make the programme's work more challenging.
He said: "Like many public sector organisations, we are facing cuts which will set us considerable challenges in the coming months and years.
"It does mean a lot when you hear some of the people tell you how much Rose has done for them, but the main priority for us is, and always has been, to reduce offending.
"For every person who is trying to get their life on track and is not offending there are a lot fewer victims of burglaries, car crimes and robberies."