Northampton Council consults on age limits for taxis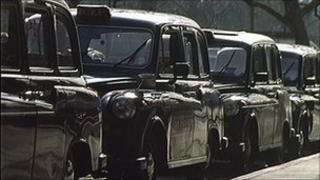 A council is consulting with residents on plans to impose an age limit for taxis to stay on the road.
Northampton Borough Council said for safety, vehicles should be no older than three years when registered and can be in use until eight years old.
Councillor Chris Malpas, head of licensing, said: "We must ensure that licensed vehicles are as safe, reliable and comfortable as possible."
But Kevin Willsher, from A1 Taxis, said testing was already very stringent.
"The plating test is a strict test and is twice a year in Northampton, other areas only do it once," he said.
In Northampton, the existing policy only stipulates that Hackney carriages (black cabs) must be less than three years old when licensed for the first time, but after that there is no upper age limit.
The council said it currently has 569 private hire cars licensed, with 68 of them older than eight years.
There has also been a proposal to increase the engine capacity for taxis from 1400cc to 1600cc.
"Many of these drivers will struggle to purchase new vehicles if changes go through," said Mr Willsher.
The consultation runs until 29 February 2012.