Northamptonshire building plans 'must include infrastructure'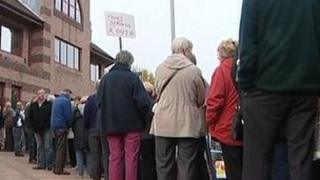 A controversial plan to build 1,000 homes in Northamptonshire will not go ahead until a list of measures have been met, according to the council that owns the land.
Campaigners against housing plans at Buckton Fields had urged the council not to sell its share of the area.
Northamptonshire county councillors have agreed at a meeting to impose measures on the sale of the land.
The main condition was for developers to give assurances on infrastructure.
The second was that the land can only be sold if it was declared surplus.
'Absolutely essential'
Councillor Andrew Langley said any development application would have to have the provision of infrastructure and gave the example of a new bypass.
He said: "On such a major decision with such big infrastructure the county council needs to look very seriously at it and do a lot of work.
"We have stated a very clear decision today that we see the provision of infrastructure as absolutely essential.
"A lot of people today mentioned the new bypass, that is something that I personally think would be an extremely good idea."
Liberal Democrat councillor Sally Beardsworth, who put forward the motion calling on the council to refuse to sell the land, also called for adequate infrastructure.
The original application for the houses was turned down by Daventry District Council but the same committee later approved the application.