King's Cliffe nuclear waste campaigners drop injunction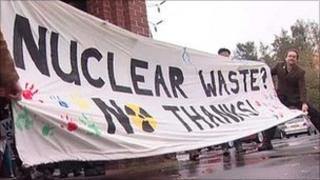 Campaigners fighting the dumping of radioactive waste at a plant in Northamptonshire have withdrawn an injunction which aimed to prevent the waste from being received at the site.
The group in King's Cliffe, near Peterborough, had wanted to stop Augean from receiving low-level radioactive waste until an appeal is heard.
But they have now withdrawn the case.
However the main legal campaign to stop the waste company operating in the area will still go to court in January.
Richard Buxton, solicitor for the group, said: "We think it will be very troublesome for Augean to remove waste that has been dumped there, if it is found to be illegal in January so we would expect that it won't happen."
In a statement, Augean said: "The company has voluntarily held off implementing its planning permission to date to allow the judicial process to take place.
"As the courts have clearly indicated that Augean should be able implement its permission, the company is preparing to do so."
In November campaigners lost a legal challenge when the High Court ruled Augean could bury material at the plant.
Early in December, six people were arrested on suspicion of aggravated trespass at a protest at the site. They were later released with a caution.
Since that incident, Augean said the police had asked the company not to discuss or publicise any dates on which it intends to accept low-level radioactive waste at the site.