Chemicals found in 'fake vodka' in Northamptonshire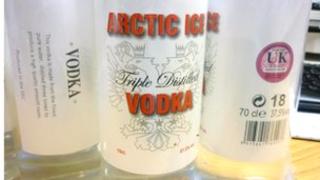 Shoppers in Northamptonshire are being warned about buying fake vodka after antifreeze was found in some bottles.
Trading Standards seized 60 bottles from shops across the county.
The poisonous substances were found in branded spirits called Arctic Ice Vodka and Drops Vodka.
The products contained harmful chemicals which are found in cleaning fluid and methanol which is used in antifreeze
Paul Maylan, from Trading Standards, said: "They are the sort of compounds that are related to alcohol, but the body can't process them properly so they turn out to be far more toxic."
The public is being asked to report any suspicious products to Trading Standards.
"If people think they are buying the genuine labels and it doesn't taste right they should let us know," Mr Maylan said.
Trading Standards, the police and environmental health officers are increasing the number of premises they visit over Christmas and any illegal goods will be seized.
Shops caught with fake goods could face prosecution.