Couple from Hemel Hempstead beaten by thieves in home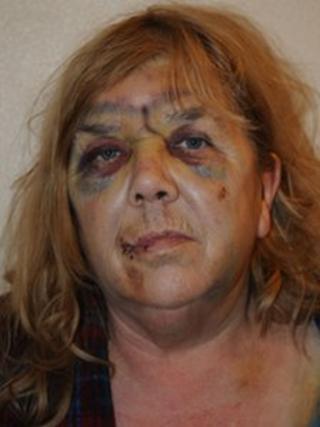 A couple were attacked by burglars who forced their way into the pair's Hertfordshire home and demanded money.
Christine Fordham and her partner Joseph Burke, both 64, were beaten by two men who pushed their way through their front door on 16 December.
The intruders demanded the couple hand over cash and Ms Fordham's mobile phone before running off.
Hertfordshire police are appealing for witnesses to the attack to come forward.
Ms Fordham said she and Mr Burke were watching television in the home they share in Hemel Hempstead, when they heard a knock at the door between 21:30 GMT and 21:50 GMT.
Mr Burke went to the door and was immediately attacked by the men.
"Before I knew it, two strange men had pushed their way through my front door, into my home and began attacking us," he told police.
"One of the men hit me in my eye straight away, so I couldn't see anything.
"I then became aware that the other man was attacking Christine; they were punching and kicking both of us, demanding we hand over any money we had."
Ms Fordham said one of the men then put something to her head and threatened to shoot her although she is not sure if it was really a gun.
After the men ran off, the couple ran to a neighbour's house to raise the alarm.
Ms Fordham had 10 stitches in the back of her head while Mr Burke suffered a fractured cheekbone and bruising to his head and chest.
Det Con Geoff Smith, investigating officer, said: "Although Christine and Jo's wounds are starting to heal, they will forever be left with the memory of what happened to them on that dreadful night."