Northampton railway society seeks steam roller experts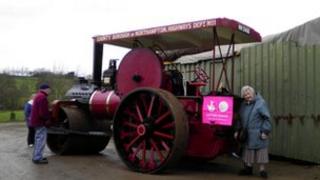 A railway preservation society in Northamptonshire is appealing for steam enthusiasts to help restore a machine.
The Northampton & Lamport Railway has part-restored a 113-year-old Allchin steam roller, but need help to get the engine working.
The roller was given to the group by Northampton Borough Council in 2009.
Project manager Sharon Skinner said: "We think it may take a few years to get the roller back to steam."
'Trial and error'
The Northampton & Lamport Railway Preservation Society said it was looking for people with expertise about steam engines built around 1899.
Ms Skinner said the group was also struggling to find the right parts for the engine.
She said: "We don't have any blueprints to copy from so the rest of the work is going to be a bit of trial and error.
"We tried to find people who had any involvement with the rollers but many of them have passed away."
The group, based in Chapel Brampton, also won a People's Millions lottery grant of £50,000 to help with the project.
All of the rebuilding was done by volunteers with up to six people working on the steam roller at any one time.