Wellingborough council looks at staff home-working plan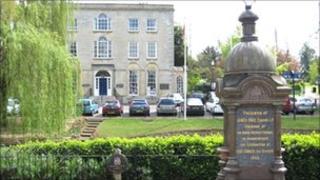 A council in Northamptonshire is considering plans to have some of its employees work from home to save money on office buildings.
Wellingborough council will discuss how its property and land, worth £75m, is managed at a meeting on 11 January.
The authority said it was looking at its office accommodation to ensure it was being used in the best way.
The council's assets include offices, refuse depots, parks and sports facilities.
A review has started to identify any under-performing or surplus assets that could be sold to help finance the council's capital programme.
The money would be put aside for significant projects like the renovation of the Castlefields Park.
A council spokesman said: "What we want to do is look at all of our assets to make sure we're getting the best possible returns and then change things if necessary.
"We recognise that several of our assets have real benefits for the community, so in those cases the best return would not necessarily be all about finances."