High winds in Northamptonshire cause disruption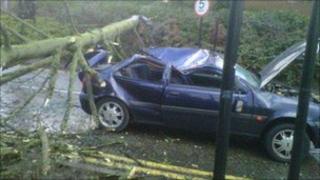 A woman in Northamptonshire has survived a tree falling on her car caused by the high winds.
The incident took place just after 09:00 GMT near Morrisons' car park in Wellingborough. Police said she was not seriously hurt.
Dozens of fallen trees and branches have caused disruption to roads across the county.
Police officers dealt with about 30 incidents, coning off affected roads until the debris could be removed.
The county council's Street Doctor service has been working all day removing branches and clearing roads.
Northamptonshire Police said most roads were now clear or were in the process of being cleared.
Police are asking drivers to be cautious and to drive carefully and more slowly, particularly on country roads.