Nuclear waste deliveries arrive at King's Cliffe site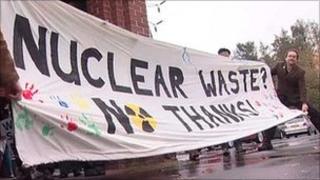 Low-level radioactive waste has started being delivered to a hazardous waste landfill site in Northamptonshire.
Waste firm Augean said it started to take deliveries at the site near King's Cliffe village on 21 December.
It said the waste included rubble from a decommissioned nuclear power station, personal protective equipment from hospital radiology departments and watchmakers' luminous paint.
Local opponents said they were "deeply dismayed" at the development.
The company will have to face a legal challenge brought by residents to be heard in the Court of Appeal on 17 January.
Augean had initially held off implementing its planning permission to dump the waste to allow the judicial process to take place.
Chris Leuchars, spokesman for the campaigners, said: "By doing this, Augean have destroyed the very small amount of trust they enjoyed in the area."
In a statement, the company said: "If campaigners are ultimately successful in their appeal, the application will be referred back to the secretary of state for redetermination."