Northamptonshire child's struggle to eat after cancer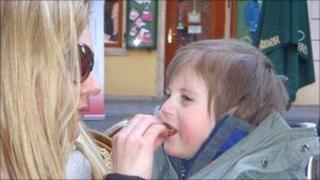 A Northamptonshire child left unable to eat following his fight with cancer can now feed himself thanks to a £15,000 specialist treatment and tireless support from his parents.
Four-year-old Arthur Kingham, from Mawsley, was fed though a tube during the 10 months it took him to beat a cancerous tumour on his leg.
Arthur was still feeding from a tube when he was discharged from hospital in Leicester in December 2009 and it was his parents, Rachel and Ben Kingham, who decided to try to get him to eat normally.
The process took two years, which included a fundraising campaign to pay for a three-week stay at a specialist feeding clinic in Graz, Austria.
Now nearing the end of the process, Arthur's parents have decided to launch a charity to help other children in the same situation.
'Terrified of food'
Mr Kingham said: "Children leaving the hospital in Leicester and returning to Leicester were able to access help from charities like Clic Sargeant, but we don't have facilities like that in Northamptonshire."
It was a problem they identified just weeks after their return from hospital.
Mrs Kingham said: "We soon realised that feeding through a tube was no life for him or for us. He couldn't go to nursery and it made a normal life impossible.
"But he was terrified of food, terrified of anything going near his mouth.
"The hospital had provisions for older children but didn't really know what to do with him [regarding his eating] because he was so young, and he didn't want to eat.
"He had had so many tubes pushed into his nose, so many things forced into him that anything made him sick. I'd have to keep buckets around the house because he was sick so often."
After several months of trying to get Arthur interested in food, Mrs Kingham decided to fundraise to pay for him to attend the specialist centre in Austria.
The family spent three weeks at the centre and it was during one afternoon in Graz that Authur ate a chip from his mum's plate.
Mrs Kingham added: "It was a very good feeling. After that there wasn't a day where he didn't eat anything."
Arthur is now well on his way to feeding normally.
Mrs Kingham said: "It has taken over a year but we are nearly there now. He will eat a meal and drink, but he has no concept of food as a treat, he is not interested in chocolate or crisps or anything like that."
The couple are now setting up a charity, Arthur's Next Steps, to help young children who have been discharged from hospital and are struggling to fit in with normal life through play sessions.
They have already fundraised more than £20,000 which they will use to get the charity up and running.
Mrs Kingham, who is a trained nursery practitioner, sad: "The main outgoing will be on paying staff, but the Mawsley Day Nursery where I work has agreed to allow me to use their facilities."