Woman, 87, waited 90 minutes for ambulance after fall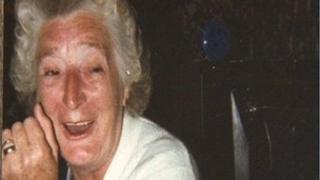 An investigation has begun into the death of a Northamptonshire pensioner who died after falling and waiting 90 minutes for an ambulance.
Phyllis Aston, 87, did not arrive at Northampton General Hospital until two hours after the emergency call, said her family.
Mrs Aston was then left on a trolley for another hour before she went into cardiac arrest and died, they said.
A spokesperson for the hospital said the investigation would be thorough.
Mrs Aston's family said changes must be made to the system.
They said problems began when she was told to stay where she fell on the pavement outside her Northamptonshire home, until the ambulance arrived.
Her son-in-law Michael Diggin said: "Last Tuesday night was a cold evening. She had fallen over. When we died 999 we were told not to move her.
"She was outside on the pavement. We tried to keep her as warm as we could, but we had no choice but to take her inside to try and keep her warm."
Mr Diggin said the NHS in Northampton was not capable of dealing with the number of people in the town and urged officials to release the paramedics who wait with patients at the hospital until they are allotted a bed.
He said "You have a town like Northampton with a town that has doubled in population and the NHS hasn't kept up with it.
'Release paramedics"
"Release the paramedics, get them back on the road and you will never get a story like this again."
A statement from Phil Milligan of the East Midlands Ambulance service explained that an ambulance had been dispatched at 16.38 GMT, but was diverted to a patient who had suffered cardiac arrest.
"We are sorry to hear that she later passed away and offer our sincere condolences to her family and friends," he said.
Dr Gerry McSorley of Northampton General Hospitals said a thorough investigation had been launched into the circumstances surrounding the death of Mrs Aston.